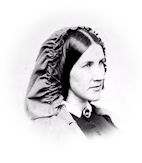 Georgeanna to Mother.
Off Ship Point.
It was the Wilson Small (a little steamboat chartered by the Commission to run up the creeks and bring down sick and wounded), that came alongside with our first patients, thirty-five in number, typhoid cases, from Ship Point, who were slung through the hatches on their stretchers. . . . We women arranged our days into three watches, and then a promiscuous one for any of us, as the night work might demand.
After breakfast, Sunday, on the Webster, we all assembled in the forward ward, and Dr. Grymes read the simple prayers for those at sea and the sick. Our poor fellows lay all about us in their beds and listened quietly. As the prayer for the dying was finished, a soldier close by the doctor had ended his strife.
We crawled up into our bunks that night amid a tremendous firing of big guns, and woke up in the morning to the announcement that Yorktown was evacuated! Franklin was in McClellan's tent when the news came, and he says McClellan did not know what to make of it.
A little tug has just passed, calling out to each transport to be ready to move in ten minutes if the order is given; probably to go round to Yorktown, and be ready to push up the river in case our men advance. A tug from Baltimore came alongside just now with contrabands and workmen for the "Ocean Queen," which the Commission has secured, and E. and I will probably go over to her this evening.