Hi all,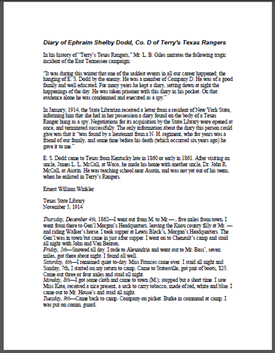 I got a bit behind on some of the diary posts – I'm just about caught up now.  I am done publishing material from 1862 (unless I come across some new and interesting diary or journal).
One of the diaries I was behind on was a new one, the Diary of Ephraim Shelby Dodd, Co. D of Terry's Texas Rangers.
Dodd was taken prisoner and the diary was found in his pocket.  He was condemned and hung as a spy.
I've saved all of the Dodd diary entries prior to January 14, 1863 as a pdf for those who may be interested in reading them without backtracking through the blog. Just click on the image above.