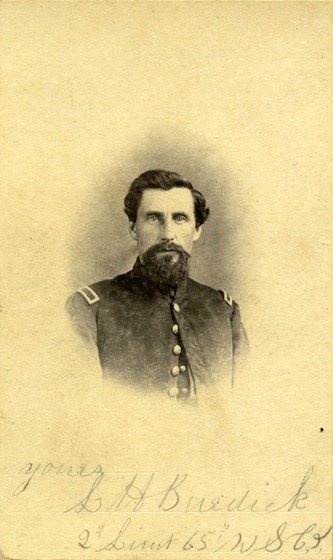 Lucius Burdick enlisted as a private in Company E, 11th Kansas Volunteers, at Emporia, Kansas, on August 25, 1862, and was mustered into service on September 12, 1862. He was promoted to second lieutenant on January 19, 1864, at Benton Barracks, Missouri, and assigned to Company H, 65th U. S. Colored Infantry. Burdick transferred to Company B on November 4, 1864. He was then transferred to Company F on August 15, 1865, and promoted to first lieutenant.
Burdick and the other members of the 65th U. S. Colored Infantry were mustered out of service on January 8, 1867, at Baton Rouge, Louisiana.
Carte-de-Visite by A.D. Lytle, Baton Rouge, La.
_______
The Trans-Mississippi Theater Photo Archive image and information.
Civil War Portrait 009