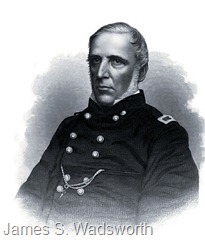 August 6.—Col. Thomas C. Johnson, aid to the rebel Gen. Price, at Quitman, Miss., issued the following call to the people of that State:
"I am in your midst for the purpose of procuring shoes and yarn-socks for Gen. Price's army. Some of his veterans—men who have been in six or eight pitched battles and twenty skirmishes— are to-day destitute of these two articles, necessary even in camp, but indispensable when the army takes the field. As this army now guards the gates to the entrance of the Mississippi, preliminary to driving the enemy northward, Gen. Price desires that the patriotic men of this State should furnish the shoes, and her glorious women the yarn-socks. If possible, he would like every white woman in the State to knit at least one pair of socks for his army. While I make this appeal, I think it is proper to add, that I do not ask a donation, but am prepared to pay a liberal price for both shoes and yarn-socks. I shall be pleased to contract with tanners and shoe-manufacturers for shoes now on hand, or to be made hereafter; and will be obliged to any person who will let me know where I can make contracts.
"For socks, all yarn, white or colored, of good size and length in the leg and foot, I will pay seventy-five cents per pair. They may be sent to me or Dr. France at this place, where they will be paid for, or may be left with the station-agent of the nearest depot of any of the three railroads now in our possession, and some time soon I will call or send an agent to get them and pay for them."
—At Point Pleasant, Mo., a skirmish occurred between the citizens of that place and the State troops, on account of a difficulty growing out of the enrolment act.—A large war meeting was held at Scranton, Pa., at which speeches were made by Galusha A. Grow and W. W. Ketchum.—A skirmish took place near Montevallo, Mo., between a force of Union troops under the command of Major Montgomery, and a small party of rebel guerrillas, resulting in the rout of the latter with great loss.—Springfield (Mo.) Journal, Aug. 11.
—W. D. Porter, commanding a division of the Mississippi gunboat flotilla, with the gunboat Essex, attacked the rebel iron-clad Arkansas, at a point about four miles above Baton Rouge, La., and after a short engagement succeeded in destroying her.—(Doc. 91.)
—Charles A. Carroll, a rebel colonel commanding North-west Arkansas, at Fort Smith, issued general orders compelling all persons in the counties of Benton, Washington, Madison, Carroll, and Newton, between the ages of eighteen and thirty-five to attach themselves at once to the companies raised by him, and declaring "that the oaths administered by the Federals were without legal authority, having no binding efficacy with any civilized people; and a citizen who would think of regarding such iniquitous oaths would be as infamous as those who administered them; and any such would be dealt with as they deserve, understanding at the same time, that the confederate officers everywhere would protect citizens in this their first duty to their country by every means of retaliation necessary to the end in view." —General Order*.
—At Harrisburgh, Pa., Gen. Wadsworth, by direction of the War Department, arrested the editors and publishers of the Patriot and Union, charged with issuing treasonable posters, calculated to retard and embarrass recruiting throughout Pennsylvania.
—Brigadier-general Robert L. McCook, died from wounds received from a party of guerrillas, who attacked him while proceeding in an ambulance from Athens, Ala., to the National camp near Dechard, Tenn.—(Doc. 172.)
—A Reconnoissance was made from General Burnside's army by two forces, one under command of Gen. Gibbon, and the other under Acting Brig.-Gen. Cutler, for the purpose of breaking the railroad communication with Richmond, Va. The first advanced as far as the Mattapony River, where they were met by a force of Gen. Stuart's rebel cavalry, when a skirmish ensued, resulting in the retreat of the rebels. Gen. Hatch having joined Gen. Gibbon, the two forces crossed the river and advanced seven miles, but learning that a large rebel force was on his right, and fearing lest he should be cut off, Gen. Gibbon retraced his steps and returned to camp without having accomplished the object for which he was sent The column under Gen. Cutler was more successful. It advanced to Frederickshall Station, and tore up a section of the railroad, destroyed the water-tanks, five thousand bushels of grain and a quantity of whisky; cut the telegraph-wires and blew up the road-bed. One detachment was sent above and another below the station, both doing great damage. On returning to camp, a large bridge on the Pamunky River was burned to prevent the rebels from following. The expedition was considered satisfactory, and returned to camp with a loss of one killed and seventy-two taken prisoners.
—Yesterday and to-day a series of sharp skirmishes occurred near Tazewell, Tenn., between a body of Union troops under the command of Col. De Courccy, and a superior force of rebels, resulting on each occasion, in a repulse of the latter with considerable loss.—(Doc. 173.)
—An enthusiastic war meeting was held at Washington, D. C, at which patriotic resolutions were adopted and speeches made by President Lincoln, Gen. Shields, and others.—(Doc. 174.)
---
James Samuel Wadsworth (October 30, 1807 – May 8, 1864) was a philanthropist, politician, and a Union general in the American Civil War. He was killed in battle during the Battle of the Wilderness of 1864. (Wikipedia)