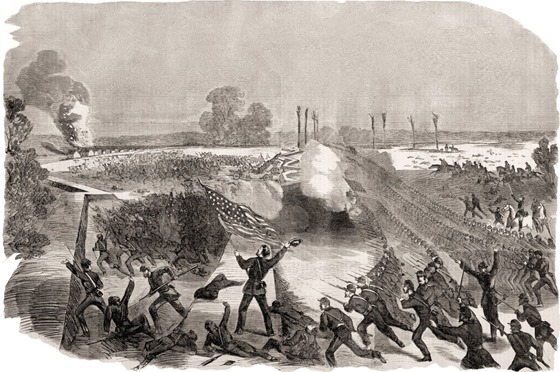 The Battle of Black River Bridge, May 17, 1863 – Sketched by Mr. Theodore R. Davis.
__________
The Fight at the Black River Bridge.
"Head-Quarters Of Major-General McPherson,
Commanding 17th Corps Army Tennessee,
Camp Near Vicksburg, May 18, 1863.
"We had fought the battle of Champion's Hill, and at night lain down as tired as mortals ever are; yet the next day, finding the enemy, we, before dinner, captured his works, seventeen guns, and over two thousand prisoners.
"The brigade of Colonel Lawler was ordered to advance upon the right, and the division of General A. J. Smith upon the left, which they did, as illustrated by my sketch."
Mr. Theodore R. Davis, Published
in Harper's Weekly, June 20, 1863.