During the civil war, to avoid being burdened with large numbers of prisoners, armies in the field would "parole" soldiers that they had captured, releasing them on their oath that they would perform no military service until formally exchanged for prisoners of war held or paroled by the other side.  In the early part of the war, many paroled men would simply go home, or elsewhere, not to be found when time came for the exchange.
Originally intended as a "camp of instruction," a camp for paroled prisoners was established near Annapolis, Maryland, in the summer of 1862.  It came to be known as Camp Parole.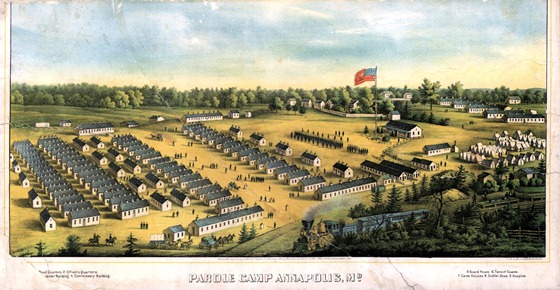 .
Letters of Francis Reed of the 7th Cavalry, 80th Regiment Pa.
.
July 31, 1862
Camp Parole, Annapolis, Md.
We arrived hear yesterday morning, we heard that exchanging has been stopped. We are all very anxious to be exchanged to go back and square accounts with some of the rebels in the vicinity of Murfreesboro. We are entirely out of money. The rebels took all my clothes they did not leave me anything except what I had on, I have no change and I am pretty dirty. Harry Snyder is situated worse than I am, he has no shoes. He has come about 800 miles barefooted. If we do not get exchanged I shall try and get a furlough from here for a few weeks.
__________
Parole Camp Annapolis, M'd.
Library of Congress Geography and Map Division
http://hdl.loc.gov/loc.gmd/g3844p.cw0245390
LC Civil War maps (2nd ed.) 245.39
Bird's-eye view.
Entered according to Act of Congress in the year 1864 by E. Sachse & Co. in … the District Court of Md."
Includes index to points of interest.