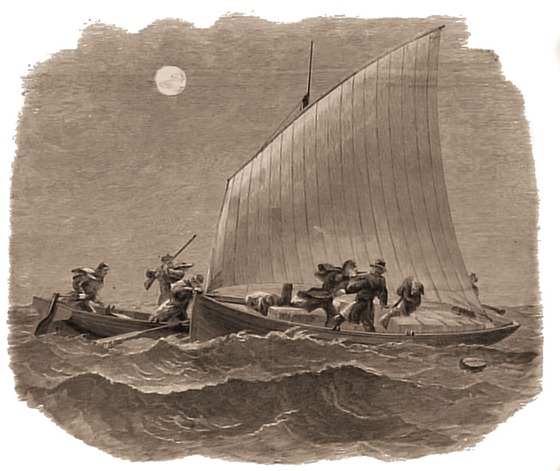 On the night of 3d February as Capt. J. G. Healy, of the 9th Connecticut volunteers, with three private was picketing the lake, he saw by the moonlight a sloop sailing towards Dixie, evidently having come from New Orleans. He immediately put off with his three men and a boat, and soon pulled up to the strange sail, the crew of which fired several shots, some of which came in close proximity to Capt. Healy. Running alongside, Capt. Healy sprang on board the sloop, and presenting his revolver to the head of one of the smugglers, demanded their surrender. They complied with his demand. When the sloop was brought ashore it was found to contain a very valuable cargo of medicines and other useful articles.
When the Union boat was nearing the lugger one of the crew was observed throw a parcel overboard; it was "fished in," and found to contain a number of letters from many of the prominent citizens of New Orleans to some of the chief rebels. The crew, which consisted of two Jews and a Creole, were immediately committed to jail, and will be held to give evidence against some of those whose letters have been thus captured. The cargo is valued at $50,000.
From the March 14th issue of Frank Leslie's Illustrated Newspaper.