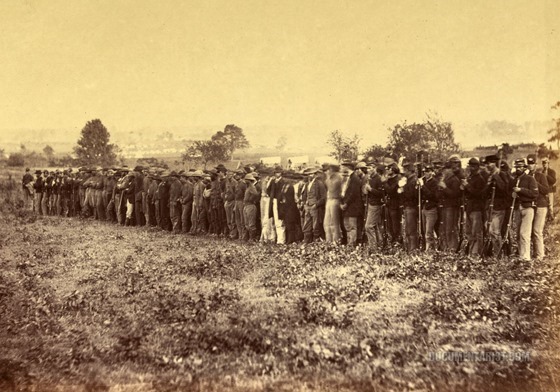 Group of Confederate Prisoners. Fairfax Court-House, Virginia.
June, 1863; Photographed by Timothy H. O'Sullivan
These were a batch of rebel cavalrymen, captured in the battle of Aldie, by the troops under Gen. Pleasanton. The majority of them are dressed in the dusty grey jacket and trowsers, and drab felt hat usually worn by the rebel cavalry; some, however, show no change from the ordinary clothes of a civilian, being probably recruits or conscripts, although their appearance laid them open to the charge (often made during the war) of being irregulars, out for a day's amusement, with their friends in the cavalry, as one might go off for a day's shooting. The fight in which they were taken, was hotly contested, and took place at the foot of the upper end of the Bull Run range of hills, in Loudoun County, in and around the village of Aldie. The rebels were driven, and our cavalry left masters of the field—not without serious loss to our side, as well as to the enemy—a day or two after, Pleasanton attacked and drove them fifteen miles across the country, to the refuge of the Blue Ridge. Generals Buford and Gregg, ably leading their divisions in the fight.
The country around Aldie is very charming, very much diversified with hill, wood and valley, fine farms, pretty books—with stone bridges—and beyond all, the noble chain of the Blue Ridge, dividing Loudoun from the Shenandoah Valley.
Caption taken from original text, Plate 34, Vol. I, Gardner's Photographic Sketch Book of the War (Washington: Philp & Solomons, 1865-66)
Cornell University Library page.