IMPORTANT ARREST.; Hon. Clement L. Vallandigham Apprehended —The Fire Bells at Dayton Rung, and an Attempt Made to Rescue Him. —RIOTING BY A DISLOYAL MOB.
CINCINNATI, Tuesday, May 5.  (NY Times)
Hon. CLEMENT L. VALLANDIGHAM was arrested at his residence at Dayton, Ohio, this morning, by a detachment of soldiers, who went up from Cincinnati by a special train last night.
The soldiers were obliged to batter down two or three doors of his house before they could reach his room and take him.
His friends rang the fire-bells and called out the people, when an attempt was made to rescue him, but it failed.
He was brought to this city.
CINCINNATI, Tuesday, May 5 — P.M.
A disloyal mob has cut all the telegraph wires in Dayton, and set the Journal office on fire. It is feared that the Philips house will be fired. The telegraph office has been closed, for fear of being gutted by the rioters.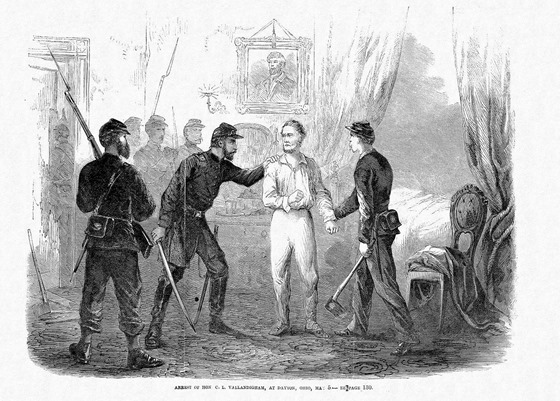 Arrest of Vallandigham from May 23, 1863 issue of Frank Leslie's Illustrated Newspaper.