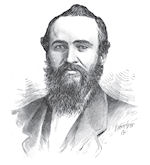 Sunday, 20th.—Zollicoffer put his brigade in motion about noon, with McNairy's Battalion again in the rear. Late in the afternoon, within about three miles of Wildcat, Zollicoffer's advance guard killed one1 of the enemy's picket and wounded and captured another.
McNairy having been ordered to the front, reported to General Zollicoffer, at the head of the infantry column, just as the General had learned that the battalion of cavalry in front had come in contact with and been repulsed by the Federals. Notwithstanding it was now about dark, he ordered McNairy to take his battalion and dislodge the Federals from their position in a dense woods, just beyond a large field.
Just as the front of our battalion had passed out of the field into the road beyond, with woods on both sides, the enemy fired a few shots from the woods on our right. Our Colonel then cried out, "Charge! charge!" (with an oath). Dashing forward a short distance, seeing no enemy in front, and fearing an ambuscade, he halted, moved his men back into the field, dismounted a part of them, and scoured the woods on foot, finding that the enemy had fallen back. It would seem that there was only a small squad of Federals in the woods, and that they fled as soon as they fired the first round. We then fell back to the opposite side of the field, deployed in line of battle, and lay on our arms all night. We were now within about two miles of Wildcat; could hear the enemy's drums. As soon as the enemy fired on the First Battalion, the Twentieth Tennessee Infantry plunged into Rockcastle River about waist deep, and went to our support.
________
1 Dr. Wyatt and the writer dismounted and lifted his remains from the road. He proved to be Captain Merriman, from East Tennessee.