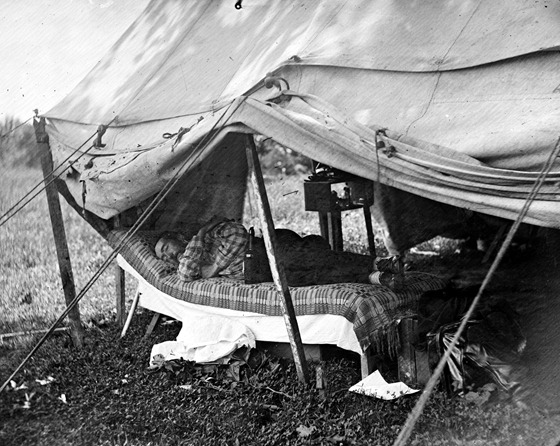 Lt. Col. Samuel W. Owen, 3d Pennsylvania Cavalry, caught napping by photographer Alexander Gardner in August 1862 at Westover Landing, Va..
Library of Congress image from Civil War glass negative collection.
________
From Antietam on the Web:
Before the Antietam Campaign:
A tailor by trade, with a successful business in Washington DC, Owen was among the first in Federal service at the outbreak of War in April 1861. His Independent Company of (DC militia) cavalry helped man the defenses of Washington DC before the arrival of the first regiments from the Northern States. In July he enrolled in the newly forming 3rd Pennsylvania Cavalry in Washington, mustering into Federal service as their Lieutenant Colonel on 19 August 1861 for three years. Due to the frequent absence and eventual promotion of Colonel William Averell, Owen was in effective command of the Regiment for much of his service. He was in action on the Peninsula Campaign of 1862, and commanded the 3rd Pennsylvania after 6 July when the Colonel took over the Brigade.
In the Antietam Campaign:
Owen was in command of the regiment on the Maryland Campaign; Colonel Averell absent with the "Chickahominy Fever" (malaria).
The remainder of the War:
He resigned his commission soon after Antietam, on 25 October 1862.