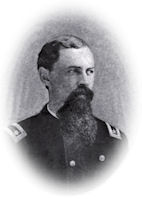 Charles Wright Wills
An Illinois Soldier – Including a Day by Day Record of Sherman's March to the Sea is a compilation by his sister, Mary Ellen Wills Kellogg,  of the letters and diary pages Wills had sent her during the war.
Introduction from the book
To his surviving comrades of the Fifteenth Army Corps these letters and diary of their former fellow soldier, Charles W. Wills, are respectfully dedicated. They do not profess to be a history of the war; only a chronicle of events recorded from day to day when the impressions were fresh and vivid. Some opinions are expressed which time afterwards modified or reversed. Doubts and criticism of the strategy of the commanding generals reflect the views that prevailed at the time they were written, and show, as the writer himself says, how little the actual fighting soldiers sometimes knew of what was going on around them. Nevertheless it is believed that the story of courage, endurance, self-control and unflinching patriotism herein told, with characteristic modesty and quaint humor, and the life-like portrayal of incidents of the great struggle and of the social conditions prevailing in the Border and Seceding States during the contest will be found of interest and historic value.
Charles Wright Wills was born in Canton, Fulton County, Illinois, April 17, 1840, of Pennsylvania parentage, and was educated in the Canton public schools and the State Normal School at Bloomington, Illinois. On the outbreak of the war, responding to the first call of President Lincoln for three months' volunteers, he enlisted in Company E, Eighth Illinois Infantry, April 26th, 1861, and re-enlisted for three years at the end of his first term of service. Subsequently he was commissioned First Lieutenant and Battalion Adjutant of the Seventh Illinois Cavalry. When by order of the War Department in 1862 all Battalion Adjutants were mustered out of service, he returned to Canton, raised a company in the One Hundred and Third Illinois Infantry, and was elected its Captain. In 1863 Major General Oglesby appointed him upon his staff, but after a brief service as such, he gladly returned to active duty with his regiment, and on the resignation of Major Willison, was unanimously chosen to succeed him, though he was at that time the youngest Captain in the regiment. During the campaign in the Carolinas he was commissioned Lieutenant Colonel, but was never mustered. At the close of the war he settled in Louisiana and engaged in sugar planting. He died on his plantation at Jeannerette, on the banks of Bayou Teche, Louisiana, March 24, 1883, and was buried at Canton, Illinois. His widow now resides in Denver, Colorado.
Washington, D. C., August 8, 1906.
Additional information:
Charles was the son of Andrew and Eliza Brady Wills, originally from Pennsylvania.  They had settled in Canton a few years before Charles was born.  Andrew worked as a clerk, township assessor and boarding house proprietor.
The State Normal School that Wills attended is now Illinois State University.
In January 1862, Wills wrote, " Col. Pitt Kellogg has brought me my commission as 1st lieutenant in his regiment and I am an adjutant in the 3d battalion."  The colonel was a friend from Illinois, William Pitt Kellogg. Kellogg was an Illinois lawyer and had been appointed before the war to a judicial position in territorial Nebraska by another friend, Abraham Lincoln. Kellogg married Wills' older sister, Mary Ellen Wills (b. February 9, 1836), on June 6, 1865.  Shortly before the assassination, Lincoln appointed Kellogg to the position of Collector of the porP of New Orleans. Kellogg went on to become a prosperous politician.  He served as U.S. Senator for four years, resigning to successfully campaign for the Republican nomination for Governor of Louisiana. The election was very close, with both candidates declaring, and the result was finally decided by the federal government.  After one ineffectual term as governor, Kellogg returned to the U.S. Senate for one term followed by a single term in the U.S. House of representatives.  After leaving that position, he remained in Washington, D.C.
After the war, Wills worked for two years as a collector of soldiers' claims.  He was subsequently employed by his brother-in-law in the New Orleans custom house and, later, as U.S. deputy collector of  internal revenue in Louisiana.  Kellogg and Wills joined together to purchase the Plantation near Jeanerette.
Wills married Katherine McCaulliffe.  She died in 1911.  There were no children.
Wills' older brother William H. "Tip" Wills, lived in Mississippi before war and served in the Confederate army. While his obituary said he was an unwilling conscript, after being captured, he returned to Confederate service.