New Orleans, on the left bank of the Mississippi, about one hundred miles from its mouth, was by far the wealthiest and most important city of the Confederacy. Its population in 1860 was 168,675, while that of Charleston was but 40,500, that of Richmond but 38,000, and that of Mobile but 29,000. Just before the war, New Orleans had the largest export trade of any city in the world; in 1860-'61 it received for shipment ninety two million dollars' worth of cotton and more than twenty-five million dollars' worth of sugar. These facts, together with the importance of its position from a military point of view (for possession of the Mississippi by the national forces would cut the Confederacy in two), made it the largest prize at which any single expedition could be aimed.
from "The Life of David Glasgow Farragut."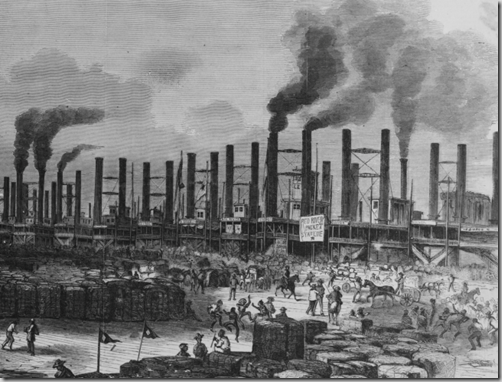 The levee of New Orleans before the war.