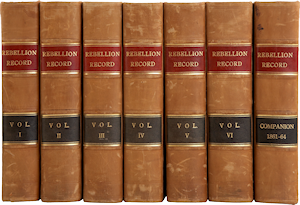 —The Louisville, Ky., papers this morning contain letters from Gov. Magoffin and General Buckner, stating that an agreement has been made between General McClellan and the Kentucky authorities, that the territory of Kentucky will be respected by the Federal authorities, even though it should be occupied by the Confederates. But if Kentucky does not remove them the Federal troops will interfere. The Governor of Tennessee agrees to respect the neutrality of Kentucky until occupied by Federal troops.—(Doc. 30.)
—This evening as Col. Sturges's battery was practising at a target on a low piece of ground, about a mile from Grafton, Va., five or six shots were fired upon the men by rebels, from a concealed position, without effect. A scouting party was sent out, and some five or six rebels, with arms in their hands, were captured and brought into camp. Among the rest were three of the Poe family, father and two sons, most notorious desperadoes.—National Intelligencer, June 26.
—The proclamation of Henry M. McGill, acting governor of Washington Territory, in response to the call of President Lincoln for troops, is published.—(Doc. 31.)
—Charles Henry Foster, in an address to the "freemen" of the First Congressional District of North Carolina, announced himself as a Union candidate for the United States Congress as follows:
"Fellow-Citizens: I hereby announce myself as an unconditional Union candidate for the Congress of the United States from this District. The usurpations of your Governor, and the revolutionary acts of your Convention, cannot command the acquiescence of loyal citizens. They are utterly without authority; they have no validity in law or public exigency, and impose no binding obligation upon the people. Your allegiance to the Federal Union remains first and highest, and there is no fealty that can conflict with or override it.
"A law of North Carolina fixes the first Thursday of August as the day of election for your Representatives in Congress. The default or malfeasance of no seditious Governor or other public functionary can defeat or impair your right of representation in the councils of the nation. It is your privilege to go to the polls, on the day designated by the statute of the State, and cast your ballots without fear or intimidation. You will be protected in the exercise of the sacred right of franchise to the full extent of the power of the Government."
—Francis H. Pierpont, Governor of Virginia, issued his first proclamation calling together the members of that State to meet in Wheeling on the first day of July.—(Doc. 32.)