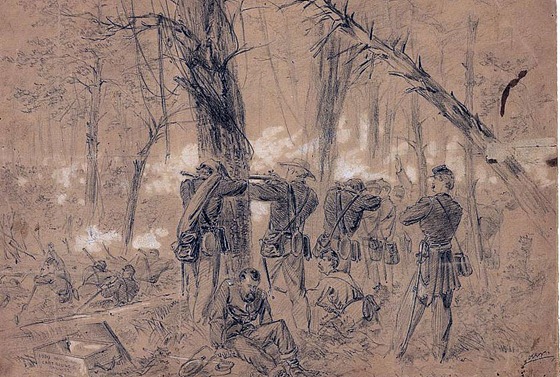 From Harper's Weekly, August 9, 1862:
On the … we give a picture of KEARNEY'S DIVISION AT WORK, on Monday, June 30. Mr. Waud says:
"In a fight, such as is represented in the picture, it is impossible to get a view of an extended line of battle from any one point. A majority of the battles so far have been of this description, usually termed bushwhacking—very deadly, but hardly affording a chance for a display of tactics. For the rest, the picture describes itself, and gives a good idea of what our soldiers have to stand up to in the Virginia swamps and woods."
From Library of Congress:
Title: Fighting in the woods Kearneys divison repulsing the enemy Monday June 30th 1862
Signed lower right: A.R. Waud.
Title inscribed below image.
Published in: Harper's Weekly, August 9, 1862, p. 500.
Inscribed on box in image: 1000 … Cartridges Call 52.
Part of Morgan collection of Civil War drawings..  Library of Congress Prints and Photographs Division Washington, D.C.
Record page for this image: http://www.loc.gov/pictures/item/2004660376/