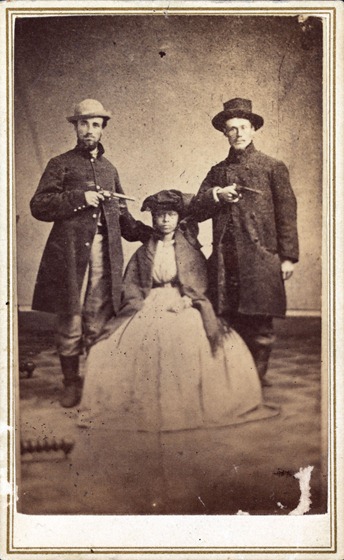 Update: 8/16/2013 — The photo is more fully described at Oxford African American Studies Center.  Berch and Rockwell had escorted an escaped teenage slave to the home of Underground Railroad operator Levi Coffin in Cincinnati.  They spent a couple of days at the Coffin home and, before sending the girl off to Racine, where some of the soldiers' friends were ready to take the girl in, the trio posed for the photo.  (Thanks to 'Also Curious' in comment below.)
__________
This image is indexed on the Library of Congress website under "Fugitive slaves – Wisconsin."
Jesse L. Berch, quartermaster sergeant, 25 Wisconsin Regiment of Racine, Wis. [and] Frank M. Rockwell, postmaster 22 Wisconsin of Geneva, Wis.
J. P. Ball's Photographic Gallery, No. 30 West 4th St., betw. Main and Walnut Sts. Cincinnati, O.
Photographer: James Presley Ball
1 photographic print on carte de visite mount : albumen ; 10 x 6 cm.
Photograph showing two men standing, with their guns drawn, and an African American woman sitting between them, full-length portrait, facing front (Rockwell standing on the woman's right).
From Gladstone Collection of African American Photographs
Library of Congress image.
Civil War Portrait 004