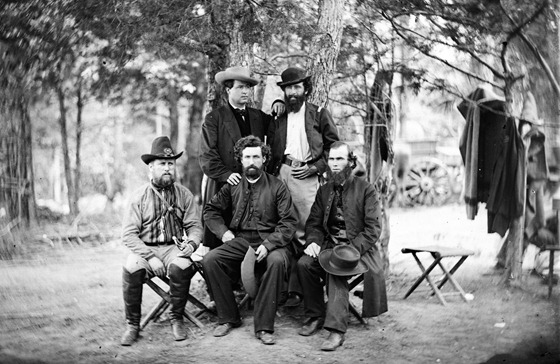 From Wikipedia:
The Irish Brigade was an infantry brigade, consisting predominantly of Irish Americans, that served in the Union Army in the American Civil War. The designation of the first regiment in the brigade, the 69th New York Infantry, or the "Fighting 69th", continued in later wars. The Irish Brigade was known in part for its famous war cry, the "faugh a ballagh", which is an anglicization of the Irish phrase, fág an bealach, meaning "clear the way".
From Library of Congress:
This photo was taken by Alexander Gardner in July 1862 at Harrison's Landing, Virginia.
Summary:  Photo shows: (back row) Patrick Dillon, unidentified; and (front row, left to right) unidentified, James Dillon, and William Corby. The identified men are priests of the Congregation of the Holy Cross, University of Notre Dame. (Source: E. Hogan, Univ. Notre Dame Archives, 2009.)
Library of Congress Prints and Photographs Division Washington, D.C. 20540 USA
Record page for this image: http://www.loc.gov/pictures/item/cwp2003000093/PP/