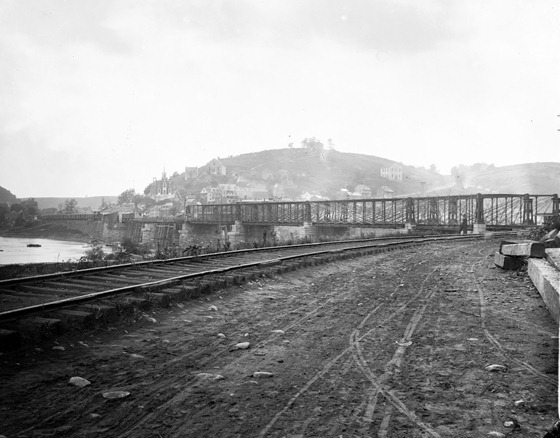 The Baltimore & Ohio (B & O) railroad bridge was once a majestic wood covered bridge that spanned the Potomac River and carried train traffic on the B & O Railroad for 23 years prior to the outbreak of the Civil War…. With the secession of Virginia in April, 1861, the bridge became a tenuous connector between the Confederacy and the Union. The bridge was over an important border, the Potomac River, and constantly had to worry about attacks from both sides of the war. During four years of Civil War, the bridge would be built and destroyed nine times – four times by war, five times by floods.
On June 14, 1861, as the Confederates were leaving Harpers Ferry, Brig. Gen. Joseph Johnston ordered the burning of all bridges on the Potomac under Southern control. The bridges that were destroyed were Point of Rocks, Shepherdstown, and Berlin. The Berlin Bridge is called Brunswick today. The Harpers Ferry region was a dangerous border area for the next eight months, disallowing rebuilding of the bridge. When the Union army occupied Harpers Ferry in February of 1862 and B & O bridge builders accompanied them. A new iron trestle was completed atop the original piers in less than three weeks, which allowed for supplies to be sent to the Union forces in Harpers Ferry and further south.
The Confederates regained Harpers Ferry on September 15, 1862 but just a few days later they would abandon that post. On September 18, 1862, the bridge was destroyed for a second time by Confederates when they left Harpers Ferry due to the outcome of the Battle of Antietam in Shepherdstown. B & O bridge builders returned with the Union army a few weeks later and had the bridge operational once again by early October.
_______
Information from National Park Service (link).
Library of Congress image.