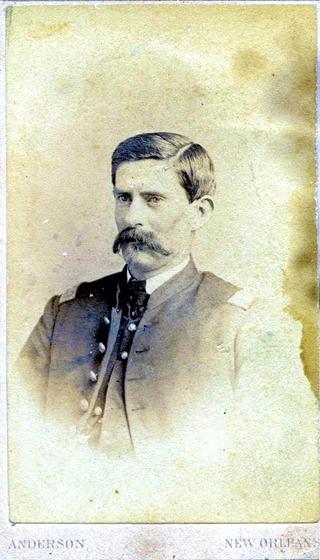 Henry Knowlton was commissioned a second lieutenant on September 5, 1862, and mustered into Company K, 33rd Missouri Infantry on September 11, 1862. On May 4, 1863, he was promoted to first lieutenant; promoted to captain on January 30, 1865, he was assigned to command Company D.
The 33rd Missouri Infantry was engaged in the Battle of Helena and participated in the Red River campaign, including the Battle of Pleasant Hill. The regiment also fought at the battles of Tupelo, Nashville, and Fort Blakely.
Knowlton mustered out with the regiment on August 10, 1865.
Carte-de-Visite by Anderson & Turner, New Orleans, La.
The Trans-Mississippi Theater Photo Archive image and information.
Civil War Portrait 002