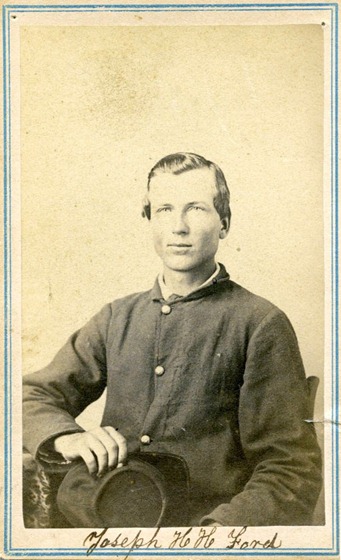 Joseph Ford enlisted as a private in Company G, 13th Kansas Infantry, on September 6, 1862. The 13th Kansas was organized on September 10, 1862, at Atchison, Kansas, and fought at the 1862 battles of Newtonia and Prairie Grove; the unit also preformed provost and garrison duties in Kansas, Missouri, Arkansas, and the Cherokee Nation.
Ford was promoted to corporal on July 15, 1864, and was mustered out with his regiment on June 26, 1865, at Fort Leavenworth, Kansas.
Carte-de-Visite by White's Photographic Rooms, Little Rock, Ark.
The Trans-Mississippi Theater Photo Archive image and information.
Civil War Portrait 003