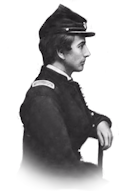 Josiah Marshal Favill
From RootsWeb (posted July 12, 2003):
At the beginning of the American Civil War in 1861 Josiah Marshall Favill was living in Jersey City, and while still a student he volunteered for 90 days as a private with Company C, 71st New York. While with the 71st he took part in the chaos that was the battle of First Bull Run.
After his 90 days service he had become a little wiser so decided to exploit the rule that stated that anyone who could recruit 100 volunteers would be appointed an officer. Josiah found his 100 volunteers. With his 90 day "on the job training" behind him that made him a 21 year old veteran, plus his recruiting efforts, he became a lieutenant and was assigned to the newly formed 57th New York. Josiah weighed 150 lbs and stood at 5ft 6 inches. Josiah was well educated to the standards of the day, which is well illustrated by his writings in his book " Diary of a Young Officer". He was eventually appointed Adjutant to the 57th.
His diary concludes just after the battle of Gettysburg and there are family rumours say that another diary existed for the period after Gettysburg until the end of the four year war in which he took part, but it has never surfaced.
Josiah was married twice, first to Harriet E. CLARK. He and Harriet had two children but they both died before their 1st birthday. Harriet died in 1869. Josiah then married Amelia Warin BAINBRIDGE on December 20, 1870. Amelia died on May of 1907. Josiah Marshall died April 21, 1913 having published his diary in 1909 probably fulfilling the wish of his wife Amelia, to whom the book is dedicated.
Finally in his Will, a copy of which I have, Josiah left a sum of money to New York University, where he was once a matriculated student, to provide an annual prize for the best examination in Latin and Greek languages, to be known as the J.M. Favill prize. I have made contact with the University and in answer to my question I was told that they have no record of this prize, or indeed of Josiah Marshall FAVILL.
The Josiah Marshall Favill Prize is awarded each year to the student who writes the best examination in translation of Latin and/or Greek. Exams are administered in February of each year.