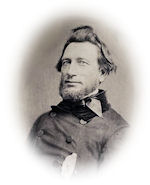 2d.—What relief it was, last night, at half-past 9, after the six day's of excitement, fatigue, fighting and famine, to lie down once more, secure of a good long night's rest! What a surprise, the whispered call, in just three hours, to rise quietly and resume the march! And what was our astonishment, when daylight revealed to us the fact that we were now retracing the very road by which we had been trying to escape. On discovering this the men began to waver in their confidence. But soon we left this road and bore off "down the river," and of the scene which now followed, neither Hogarth's pencil nor Hall's pen could render the faintest idea. The rain was pouring in such torrents as I never saw the clouds give down. The men at every step, sank nearly to their knees in mud. The officers, either sulky or excited, were driving them to a double-quick, which it was impossible for them to maintain for more than a few rods. They began to fall out, and, in half an hour, every field, and all the open country, as far as the eye could reach, presented the appearance of a moving, hurrying mob. I was here strongly reminded of my school boy imaginations of the Gulf Stream. This swaying, surging mass presenting the idea of the ocean lashed into irregular fury by driving storms, whilst a part of General Smith's division, moving in unbroken column through the mass, could not but recall the picture of that little stream as from the beginning of time it has preserved its quiet course, in despite of all the convulsions and conflicts of the warring elements. So great was the demoralization at this time, that I have not a doubt that an unexpected volley of either musketry or artillery would have produced a stampede which would have shamed Manassas. I saw no officer so calm, so collected, so perfectly himself as our Division Commander, General Smith. By the teachings which I had received at Camp Griffin, I had been made to believe that he could never be a man for an emergency. At the most trying moment of the day, I bore him a hurried message from two miles away. He saw me coming on the full run, through the heavy rain and mud, and as I rode up he received me with a quiet, pleasant bow of inquiry. I delivered my message, which was important, and involved the fate of his Division, without the least hurry or the slightest hesitation, and in the very fewest words which could make it forcible, as if he had known the object of my coming, and had his answer prepared, he gave me his orders, and calmly resumed his other duties. The prejudices planted and cultured at Camp Griffin were all dissipated.
I did see him, however, once during the day, a little excited. We were hard pressed by the enemy on all sides of us. We had repulsed him in every fight, protecting our immense train of wagons, now seventy miles long. But so critical had become our situation that it was decided that to save the army it was necessary to abandon the transportation; Gen. Smith rode along the line of his own transportation, clearing the road of the wagons that the rear guard of infantry and artillery might pass. He once or twice ordered a teamster out of the road. The man did not obey. 'Twas no time to arrest him; he grappled him by the neck, and for half a minute kept him in that peculiar state of gyration which a hungry soldier often communicates to the body of a rebel rooster about midnight. He had no more trouble with that teamster. But the confusion of those teams! I thought Mons. Violet in his stampede of buffaloes had got up a description of confusion which no reality could ever approach. I had formed vague ideas of Bedlam, of Pandemonium; but a million of buffaloes on a stampede, Bedlam turned loose, and Pandemonium "on a bust," all mixed and mingled, could form no approximation to a train of teams, seventy miles long, on a "skedaddle."
But all day the rain poured in torrents; men dropped by the wayside and were left. Some died from exposure; some dragged themselves into camp, and many were captured by the enemy. The night of the seventh day has come. The question of capitulation has been heard in whispers all day. But now that we are once more in camp, and in a position to offer or accept battle, most of the men scoff at the idea of capitulation, and say "fight it out." Nearly all the men, in the retreat, have thrown away their knapsacks and blankets, and have thrown themselves down in their wet clothes, and in mud and water which nearly covers them, hoping to get a little rest after the incessant fatigues of the week. The wind blows damp and chilly, and I fear the poor fellows are to have a hard night of it.