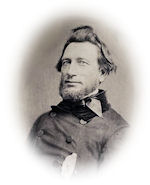 30th.—We can distinctly hear the fighting beyond Centreville; yet we move slowly, and in that direction. This fight has been going on for two days, with great advantage of numbers and position on the side of the enemy, and yet we stop to rest every half hour, when no one is tired. The troops have had no marching for a week. What can our delay mean? God send it may not be the jealousy foreshadowed in a letter written to my wife a week ago. Go on! go on! for God's sake, go on. The whole army says go on, and yet we linger here. We stop an hour in the suburb of Fairfax, whilst the sound of the fight is terrible to our impatience, and we tarry here.
5 P. M.—We have just reached Centreville. The battle rages in sight, yet we stop again to rest when no one is tired, but all anxious to rush on. After having "rested" for two hours, we moved slowly forward for two miles, when we met a courier, who exclaimed: "Oh, why not one hour earlier!" Close on his heels followed the flying crowd, again overpowered, beaten and whipped at Bull Run, the disastrous battle field of last year, and we too late to save it.
Alas, my poor country! and must you at last be sacrificed to the jealousies, the selfishness, the ambition, the treachery or the incompetency of those to whom you have entrusted your treasure, life, honor, every thing? Grouchy failed to come. So did Hancock, Franklin and McClellan. There may be good reasons for our delay, and we not be permitted to know what they are. The subordinate is forbidden to discuss the merits or the motives of his superior, but we must not be blamed for thinking. Pope was whipped. Thousands of our neighbors and our friends died on that bloody field, whilst struggling to hold it till we could reach and save them, and the joyous faces of many officers of our Army of the Potomac made us think that the whipping of Pope and the slaughter of his men, had something to do with their joy. We could not help thinking, and the army regulations will be lenient with us, if we will only not tell our thoughts. But there is one subject connected with this, on which I am inclined to think that, if spirits ever talk, those of the slaughtered there will cry aloud, in spite of the army regulations. Whilst we rested for hours in sight of the battle field, couriers came to us from the Medical Director of General Pope's army, asking that our Surgeons might be sent forward to the aid of the wounded, as they were suffering dreadfully and falling faster than their Surgeons could take care of them. On receipt of this message, I saw a Surgeon ride up to General Hancock (who was lying on the ground) and asked permission to go to their aid; the General abruptly ordered him back to his regiment! I could not learn that a single Surgeon to us permitted to go forward!
Having met the retreating crowd, and night having come on, we fell back about two miles, now tired and dispirited, and threw ourselves on the ground in and around the fortifications at Centreville, and by 12 o'clock we were all resting, preparatory to another fight to-morrow.