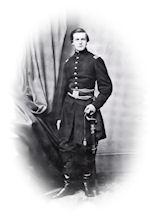 Camp near Alexandria, Va.,
Monday, September 8, 1862.
Dear Sister L.:—.
For over three weeks we have been constantly on the move, not sleeping in the same place two nights in that time.
We marched down the Peninsula, camping at Chickahominy, twenty-seven miles; Williamsburg, sixteen miles; Yorktown, fifteen miles, and Fortress Monroe, twenty-eight miles; eighty-six miles in four days. Next day embarked at Newport News, and next day landed at Aquia Creek; thence sixteen miles by railroad to Fredericksburg, then following the north fork of the Rappahannock, we went out in the direction of Culpeper and after scouting round that country a few days, took the back track and followed alongside the railroad to Manassas Junction. We left the railroad there and marched back and forth near the old Bull Run battlefield, and on Saturday week we were engaged in the second Bull Run fight on the same ground as the other, a fight that throws the first one into the shade. If I had time and felt able, I would like to describe the battle to you and our retreat to Centreville. But I don't know as you would like to hear such terrible details. Suffice it to say it was another of McDowell's victories—a fearful scene of bloody carnage.
We stopped at Centreville one day and then made a long round-about march to Hall's Hill, stopped there one day, and then a march of sixteen miles brought us here.
I would not, if I could, tell you how we have suffered on this march. Eating raw beef without salt, and drinking water from mud holes, were done more than once. I have marched forty-six miles on nothing but raw beef and ditch water, and yet I held out to the end. Now I am worn out, and can neither write nor do anything else till I am some rested.
I had to smile a little at your questions about the battle smoke. I think it more probable somebody was burning the brush in his pasture that week.