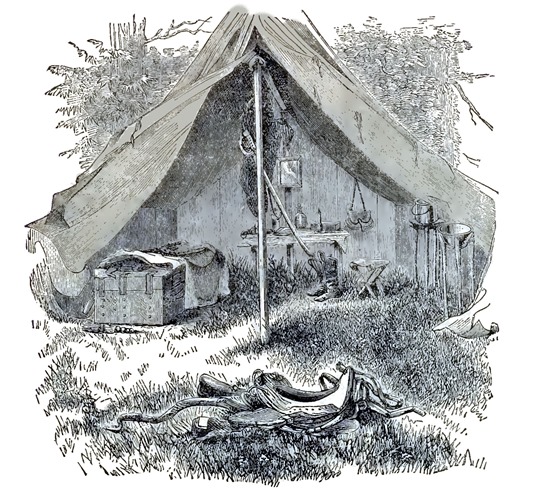 July 1ST.—Here we enter upon the patriotic month of July, and where and how we are to spend it is yet beyond our conjecture, for we never know in this kind of service what a day may bring forth.
Preparations appear to have been made here for remaining in camp, and yet we may sleep to-night many miles away, or perhaps, without sleeping, march the whole night through. If only life is spared, it is enough; our duties are not shirked. If we camp only for a day, our quarters are to be all cleaned up, and everything put in the best order possible for comfort. On such excursions as this we have no mess cooking, but every fellow cooks for himself. The first man up in the morning, therefore, gets the frying-pan, from whom the next must engage it, and then may come number three, who is referred to number two.
So the utensil goes round a group or mess. The coffee is generally made in a camp kettle for the entire company. I have spent more time hunting up the owner of the last claim on the frying-pan than it afterward took to fry my bacon and crackers.
The pay-master is said to be not far from camp, which creates quite an excitement, since he may charge upon us any moment. There were orders for inspection every morning at eight o'clock for all companies. A little exercise of this kind hurts nobody. I took a stroll through the woods, looking at the graves of those who had fallen by the wayside while our army fought for the position it now holds around Vicksburg. These graves will soon be leveled, and their last trace lost. Friends may mourn for the fallen, but their tears will never water the graves of the heroes.
I write with the aid of a bayonet candle-stick. The latter end of this month will find me just twenty-one years of age.