Sarah Morgan (Dawson)
A C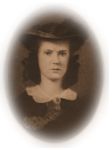 onfederate Girl's Diary by Sarah Morgan Dawson
An excerpt from the introduction to the book by her son, Warrington Dawson:
I have alluded to passages omitted because too personal. That the clearness of the narrative may not suffer, I hope to be pardoned for explaining briefly, here, the position of Sarah Morgan's family at the outbreak of the Civil War.
Her father, Judge Thomas Gibbes Morgan, had been Collector of the Port of New Orleans, and in 1861 was Judge of the District Court of the Parish of Baton Rouge. In complete sympathy with Southern rights, he disapproved of Secession as a movement fomented by hotheads on both sides, but he declared for it when his State so decided. He died at his home in Baton Rouge in November, 1861, before the arrival of Farragut's fleet.
Judge Thomas Gibbes Morgan's eldest son, Philip Hickey Morgan, was also a Judge, of the Second District Court of the Parish of Orleans. Judge P. H. Morgan (alluded to as "Brother" and his wife as "Sister" throughout the Diary) disapproved of Secession like his father, but did not stand by his State. He declared himself for the Union, and remained in New Orleans when the Federals took possession, but refused to bear arms against his brothers and friends. His position enabled him to render signal services to many Confederate prisoners suffering under Butler's rule. And it was a conversationof his with President Hayes, when he told the full, unprejudiced truth about the Dual Government and the popular sentiment of Louisiana, which put an end to Reconstruction there by the Washington Government's recognition of General Francis T. Nicholls, elected Governor by the people, instead of Packard, declared Governor by the Republican Returning Board of the State. Judge P. H. Morgan had proved his disinterestedness in his report to the President; for the new Democratic régime meant his own resignation from the post of Associate Justice of the Supreme Court of Louisiana which he held under the Republicans. He applied then to himself a piece of advice which he later was to give a young relative mentioned in the pages of this Diary: "Always remember that it is best to be in accord with the sentiments of the vast majority of the people in your State. They are more apt to be right, on public questions of the day, than the individual citizen."
If Judge Thomas Gibbes Morgan's eldest son stayed within the Union lines because he would not sanction Secession, his eldest daughter – Lavinia – was on the Federal side also, married to Colonel Richard Coulter Drum, then stationed in California, and destined to become, in days of peace, Adjutant-General under President Cleveland's first administration. Though spared the necessity of fighting against his wife's brothers, Colonel Drum was largely instrumental in checking the Secession movement in California which would probably have assured the success of the South.
In the early days of Secession agitation, another son of Judge T. G. Morgan, Henry, had died in a duel over a futile quarrel which busybodies had envenomed. The three remaining sons had gone off to the war. Thomas Gibbes Morgan, Jr., married to Lydia, daughter of General A. G. Carter and a cousin of Mrs. Jefferson Davis, was Captain in the Seventh Louisiana Regiment, serving under Stonewall Jackson; George Mather Morgan, unmarried, was a Captain in the First Louisiana, also with Jackson in Virginia. The youngest, James Morris Morgan, had resigned from Annapolis, where he was a cadet, and hurried back to enlist in the Confederate navy.
At the family home in Baton Rouge, only women and children remained. There was Judge Morgan's widow, Sarah Fowler Morgan; a married daughter, Eliza or "Lilly," with her five children; and two unmarried daughters, Miriam and Sarah. "Lilly's" husband, J. Charles La Noue, came and went; unable to abandon his large family without protector or resources, he had not joined the regular army, but took a part in battles near whatever place of refuge he had found for those dependent on him. We note, for instance, that he helped in the Confederate attack on Baton Rouge, together with General Carter, whose age had prevented him from taking regular service.
A word more as to the author of this Diary, and I have finished.
The war over, Sarah Morgan knitted together the threads of her torn life and faced her present, in preparation for whatever the future might hold. In South Carolina, under Reconstruction, she met a young Englishman, Captain Francis Warrington Dawson, who had left his home in London to fight for a cause where his chivalrous nature saw right threatened by might. In the Confederate navy under Commodore Pegram, in the Army of Northern Virginia under Longstreet, at the close of the war he was Chief Ordnance officer to General Fitzhugh Lee. But although the force of arms, of men, of money, of mechanical resources, of international support, had decided against the Confederacy, he refused to acknowledge permanent defeat for Southern ideals, and so cast his lot with those beside whom he had fought. His ambition was to help his adopted country in reconquering through journalism and sound politics that which seemed lost through war. What he accomplished in South Carolina is a matter of public record to-day. The part played in this work by Sarah Morgan as his wife is known to all who approached them during their fifteen years of a married life across which no shadow ever fell.
The Diary — University of North Carolina at Chapel Hill