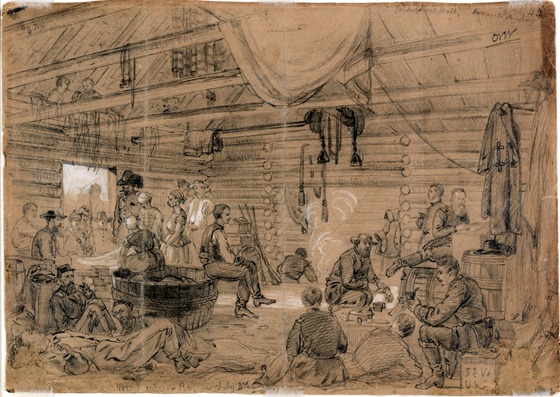 From Library of Congress:
Signed lower right: Waud.
Title inscribed upper right.
Inscribed lower left: Sk[etch in Sutlers's] store Excelsior Brigade July 3rd.
Note that the figure seated to the left of the doorway bears a close resemblance to Waud and was probably intended as a self-portrait.
Published in: Harper's Weekly, August 9, 1862, p. 500.
Inscribed on box in image: 1000 … Cartridges Call 52.
Part of Morgan collection of Civil War drawings..  Library of Congress Prints and Photographs Division Washington, D.C.
Record page for this image: http://www.loc.gov/pictures/item/2004661191/