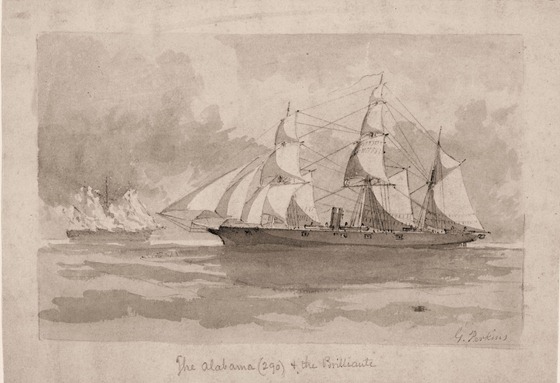 Artist: Granville Perkins.
Medium: 1 drawing on cream paper : pencil and black ink wash ; 18.8 x 27.1 cm. (sheet).
Summary: Broadside view of steam frigate in foreground, broadside view of ship on fire in background.
Published in: Harper's Weekly, 1 November 1862, p. 689 (cover), as: The Pirate "Alabama," Alias "290," Certified to be Correct by Captain Hagar of the "Brilliant."
According to the Harper's story, the captain of the Brilliante certified that this image is an accurate rendering of the Alabama. The certification is dated 18 October 1862, apparently after the Brilliante and its goods were seized.
Library of Congress image.