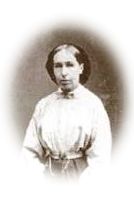 "Wilson Small," June 14.
Dear Mother,—If I can give you a clear account of what occurred last night, I shall do a clever thing; for everybody is asking everybody else if he has any positive idea as to what the fuss was all about.
We were waiting in our tent for a train of sick men which had been due more than an hour. It was nearly seven o'clock, and everything was ready; presently the train came in, and five men, bleeding from fresh wounds, were brought out. The train had been fired into, a quartermaster had been killed, and five of the sick men wounded.[1] All this had happened about three miles from White House. We did not pay much attention to the story, for we were busy giving and sending food to the rest of the men. But presently Mr. Olmsted came up with an order from Colonel Ingalls: "The ladies will return at once to their boat." Of course we obeyed, but as slowly as we could, asking questions as we went along. A second order came: "Report the ladies on board at once." We obeyed. Presently Mr. Olmsted followed with a third order: "The wounded will be moved from the 'Elm City' to the 'Small' instantly; the latter will run down to the 'Spaulding.' This arrangement is made, as the shipping may have to be burned. Put the ladies behind the iron walls of the 'Spaulding.'" Then came another hurrying order: "Let the 'Elm City' go down with her wounded on board, and rendezvous with the 'Small' alongside the 'Spaulding.'" So away we went.
But Mr. Olmsted was not satisfied. I believe he felt that our right place was where we might be of service ; and after seeing the order obeyed, he took a boat and rowed himself back to the landing. The result was that an order was sent down soon after to bring the "Small" back to the wharf and take on the sick men who had arrived on the train. So we took a detail and thirty mattresses from the "Spaulding," and went back as fast as we could. Captain Sawtelle came on board at once. Nothing very definite was known. A gap had occurred in our lines somewhere near Hanover Court-House. A regiment of cavalry was supposed to have got through. A good deal of harm had been done. Our hearts beat for the railroad-bridges (two distinct fires could be seen), and for a moment we felt gloomy. It would have been a serious business to cut off even one day's supply to the army; it would have played into the enemy's hands, — perhaps by forcing on a general engagement. Captain Sawtelle was arming every man capable of bearing arms, — teamsters, etc., — and was preparing to burn everything, shipping and all, if necessary. Two of our party, Mr. Woolsey and Mr. Mitchell, volunteered their services, and were under arms all night. A battery of artillery was hastily got together of guns that had arrived the night before; and this morning we learn that the Bucktail Rifles, Colonel Biddle's regiment, which had gone up two days earlier, has returned to guard the railroad-bridges. These and the track are perfectly safe. The telegraph-wires have been cut. The two fires we saw were only some shipping — two or three schooners — five miles up the river. It is said that a body of guerillas from the country between the Pamunky and the Rappahannock, hearing of the dash of their cavalry, came across the Pamunky on five scows, and did some damage. I wonder if they were looking at us the other night from behind the cranes!
This is the resume of what we have heard from Captain Sawtelle, who pays his morning and evening momentary visit or look at us. Now you know all about the affair historically, — at least, as much as anybody knows; but there's a dark, private aspect of it to me, and though I dare say I can tell it as a joke, it is like playing with something that has not yet lost its sting. Georgy and I were highly indignant at being sent away; we thought it shirking our duty, and very inglorious. At last our tongues got loose; we said all we thought, — at least I did. I said more than I thought, because I was in a passion; and all I got for it was the sense of having hurt and wounded Mr. Olmsted. Of course he was right; I can see now that he had to take care of us, even though it seemed absurd. This happened as we were going down to the "Spaulding." Presently Mr. Olmsted was missing. He had taken a small boat, and was rowing himself back to the landing. I saw him shoot into the darkness, and I felt like a brute; I was so sorry for what I had said; I felt I had somehow goaded him,—and I thought of him, so delicate, and now really ill, making his way into danger in a horrid little boat.
Just then Dr. Jenkins told us that if we had valuables on board, we had better secure them, as the "Small" might have to be burned. While I was getting my bags ready, I remembered that Dr. Ware and David Haight were ashore, in charge of the sick who were left in the tents, and that all their things would be burned unless somebody saved them. So, without further thought, I went into the stateroom which they shared together, and spreading a huge shawl of Robert Ware's on the floor, I proceeded to fill it with the entire contents of the room. I had just finished, and was knotting the ends of the shawl together, when Georgy came by. She stood like a mocking fiend, gazing at that wretched blue bundle; she drew such a picture of the possible morrow, and of my shame and confusion when I should have to explain what I had been about, that I was completely beaten down and humbled; and when Mr. Olmsted's order came, recalling us, and I perceived that the "Small" was not likely to be burned, I fell into a perfectly abject state of mind. This mollified her. "Come," said she, relenting, "there's time enough; let's go to work and put the things back." How grateful I felt to her while I quickly untied the "pack," as she persisted in calling it. I had a general idea where the coats and trousers ought to go; but where the minor articles belonged, who could tell? But I wouldn't show perplexity under Georgy's eye, and I popped them here and there with a semblance of order that stateroom did not wear when I went into it. Alas! This morning, through the ventilator, came the fatal cry: "Haight, take your things out of my bed!" "Where's my hair-brush?" "Where's mine?" "Upon my soul, I believe you've even got my tooth-brush!" Oh! if any one ever repented himself of philanthropy, I did then; and who shall guarantee me that Georgy will not come out and tell the whole story, and put me to open shame?
It took a very short time to turn our little home into a hospital. By 2 A. M. the men were all on board, and by four o'clock they were comfortable for the night. They are very sick, — perhaps the worst set together that I ever saw; scarcely any are in their right mind, some are raving, one is screaming now for "something hot," "lucifer-matches." They have been much shaken by the attack on the train, which has, I think, greatly aggravated their condition. One of them died this morning, unconscious, as usual, and so quietly that it was some minutes before I believed it, though Dr. Ware said it was so. He was speechless when he came into our hands, — sent down with no indication of name or regiment; and so he dies. There is another dying man lying next to where he lay; and though his eyes are bright and intelligent, he can give no sign, and I cannot discover anything about him. So many nameless men come down to us, speechless and dying, that now we write the names and regiments of the bad cases and fasten them to their clothing, so that if they are speechless when they reach other hands, they may not die like dogs, and be buried in nameless graves, and remain forever "missing" to their friends. This was Georgy's thought, — so like her! How I love her practical tenderness!
Mr. Olmsted is puzzled what to do with these men. There is a standing order against any but wounded going upon the boats; but they can hardly be sent to the Shore hospital until the question as to what this raid really is, settles itself. I have no time to write more. We are short-handed, and can spare but little time from the men, and they, poor souls, are so noisy and crazy that they give us unusual care and anxiety. I am now going below to the main-deck saloon, where they are, for the night-watch.
The "Daniel Webster" reported herself at 4 p. M. Dr. Grymes and Captain Bletham came on board at once. The latter was much gratified by D. and A.'s visit to the ship at Boston. My precious cases are on board; but in the present condition of the "Small" they must remain on the "Webster."
---
[1]Stuart's raid. See Colonel von Borcke'a account of this "gallant" deed in "Blackwood's Magazine " for September, 1865.