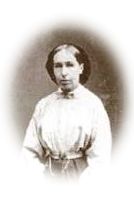 Off Berkley, Harrison's Bar, James River,
Tuesday, July 1, 1862.
Dear Mother, — We arrived here yesterday to hear the thunder of the battle[1] and to find the army just approaching this landing. Last night it was a verdant shore; to-day it is a dusty plain. The feelings with which we came up the James River I can't describe, our anxiety, excitement, and breathless desire to know something were so great. Not a vessel was in sight after we left Newport News, except the "Canonicus," Quartermaster's Department boat, which was just ahead of us. No one could guess what knowledge any moment might bring to us.
We were just admiring a fine old colonial house, when some one standing in the bows cried out: "I see something white among the trees to the right!" and in a few minutes more we made them out to be army-wagons.
We had met our army! What next were we to learn? Never shall I forget the look of the first officers who came on board, — one a major, the other a chaplain. They were gaunt and haggard, their hair stood out from their heads stiffened with dust and dirt, their faces were nearly black, and to their waists they were literally moulded in Virginia clay. "Oh! what is this?" we cried. "Is it a defeat?" "Defeat! No; we have retreated, but we never turned our backs on them. We have faced and fought and beaten them for five days!"
Just as we arrived, General McClellan came down on the "Galena" to see Colonel Ingalls. Think what a relief it must have been to his anxious mind to learn the perfect success of our removal from White House, and to know that supplies were already here, and following us up the river, for his exhausted army! I saw the gunboat he was on, but I did not see him; and he was gone almost immediately.
The "Spaulding" has just come up the river and gone ahead of us (Miss Whetten and Mrs. Balestier on board); her iron sides can carry her safely past the rifle-pits which line the shore, and Mr. Olmsted thinks her stores may be serviceable higher up. Dr. Jenkins has gone with her to judge for himself. No one can tell what work there is for us; the wounded have not come in.
---