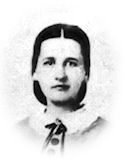 July 3rd, 1862.—We went yesterday to see the soldiers in camp. Brother Junius is as brown as a berry. I did not know blondes ever burned brown. I thought they only turned red. His uniform is extremely becoming. He did not get it until after he reached Palatka, so we had not seen him in it before.
There are two regiments beside the 5th and their tents make quite a show. We saw them drill, they looked fine, but the hot July sun must make them very uncomfortable. Mother took a large hamper of good things to eat and I heard her tell Brother Junius to share with the men who were far from their own people, said she would bring or send a similar hamper every day.
Mattie was delighted to see her father and she cried when Mother said it was time to go home. She said, "Mother, can't we take papa, too?" The seven days battles around Richmond have filled the hospitals to overflowing; nearly every home is in mourning and the sound of "Rachel; for her children weeping," is heard on every hand. We have so many dear ones in the army of Northern Virginia, and so far, we have not lost a single one. Father in Heaven we thank Thee. Mr. Blake preaches such beautiful, comforting sermons. I mark his text each Sunday and try to remember all he says. I told Mother, one Sunday when she was sick and could not attend church, what he had said in his sermon and she suggested that I get a blank book and write all I could remember of all his sermons. Next time we go to town I will get a book from Mr. McDougal.