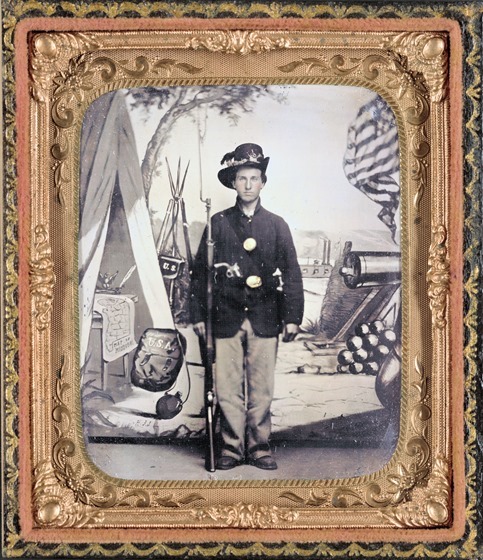 Unidentified soldier of 33rd Missouri Infantry Regiment with bayoneted musket and revolver in front of painted backdrop showing weapons and American flag at Benton Barracks, Saint Louis, Missouri.
Photo by Enoch Long.
Sixth-plate ambrotype, hand-colored ; 9.5 x 8.4 cm (case)
Gift by Tom Liljenquist; 2011
Liljenquist Family Collection of Civil War Photographs; Ambrotype/Tintype photograph filing series; Library of Congress Prints and Photographs Division.
Record page for image is here.
__________
Note – This image has been digitally adjusted for one or more of the following:
fade correction,
color, contrast, and/or saturation enhancement
selected spot and/or scratch removal
cropped for composition and/or to accentuate subject matter
straighten image
Civil War Portrait 045