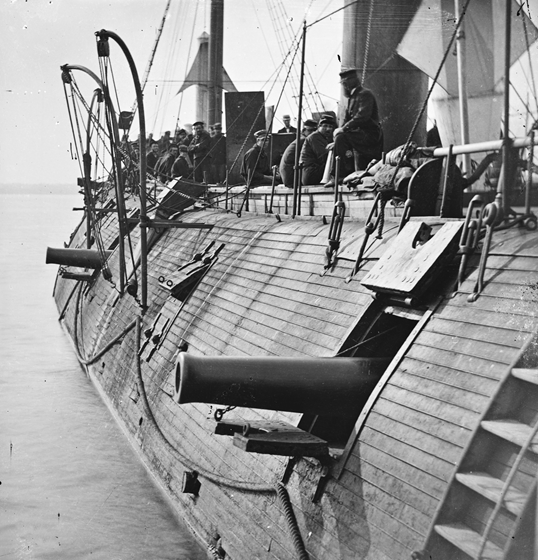 From Wikipedia:
USS Galena — an ironclad screw steamer — was one of the first three ironclads, each of a different design, built by the Union Navy during the American Civil War.
She had an unconventional armor plating arrangement which proved ineffective. Designed by famed naval architect Samuel Hartt Pook, her keel was laid down by H. L. and C. S. Bushnell of Mystic, Connecticut. She was launched on 14 February 1862, and commissioned on 21 April 1862, Commander Alfred Taylor in command.
On 6 July, Commodore Charles Wilkes was ordered to command the James River Flotilla — Galena included — as an independent division of the North Atlantic Blockading Squadron. With gunboats of the flotilla, Galena afforded protection to the daily movement of army transports and supply ships along the James River from Harrison's Bay to the mouth of the Chickahominy River, giving the indispensable protection that left the Confederate troops without ability to move effectively against McClellan's Army of the Potomac along the James River.
Galena was detached from the James River Flotilla in September 1862 and assigned picket duty at Hampton Roads and Newport News, Virginia until 21 May 1863, when she arrived at Philadelphia, Pennsylvania, and was decommissioned for repairs. Her ineffective iron plating — which had been badly damaged in the action at Drewry's Bluff — was stripped off, and she was overhauled to operate as a wooden-hulled ship.
From Library of Congress:
Photographed by James F. Gibson.
Photographs of the Federal Navy, and seaborne expeditions against the Atlantic Coast of the Confederacy
Library of Congress Prints and Photographs Division Washington, D.C. 20540 USA
Record page for image: http://www.loc.gov/pictures/collection/cwp/item/cwp2003001323/PP/