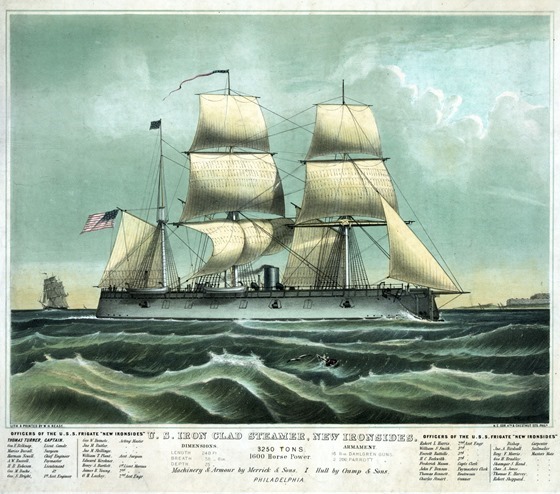 U.S. Iron clad steamer, New Ironsides
Library of Congress image.
From Wikipedia:
USS New Ironsides was a wooden-hulled broadside ironclad built for the United States Navy during the American Civil War. The ship spent most of her career blockading the Confederate ports of Charleston, South Carolina, and Wilmington, North Carolina, in 1863–65. New Ironsides bombarded the fortifications defending Charleston in 1863 during the First and Second Battles of Charleston Harbor. At the end of 1864 and the beginning of 1865 she bombarded the defenses of Wilmington in the First and Second Battles of Fort Fisher.
Although she was struck many times by Confederate shells, gunfire never significantly damaged the ship or injured the crew. Her only casualty in combat occurred when she was struck by a spar torpedo carried by the CSS David.
New Ironsides was 230 feet (70.1 m) long between perpendiculars and 249 feet 6 inches (76.0 m) long overall. She had a beam of 57 feet 6 inches (17.5 m) and a draft of 15 feet 8 inches (4.8 m). The ship displaced 4,120 long tons (4,190 t), 495 long tons (503 t) more than her designed displacement. To minimize her draft, New Ironsides was given a wide beam and a flat bottom. She had a rectangular ram that projected 6 feet (1.8 m) forward from her bow. The ship's crew consisted of 449 officers and men.