William Raleigh "Rollie" Clack
"Civil War Diary kept by W R Clack
Transcribed by Edna Clack."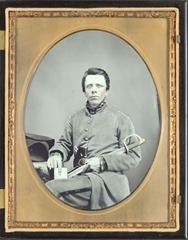 Source of the W. R. Clack Civil War Diary text: USGenWeb Archives page, Rhea County Tennessee TNGenWeb
 WILLIE ROLLIE CLACK  Spring City, Tenn., April 29 (1919) — William Rollie (Raleigh) Clack, the last of the olde families who were prominent in Rhea county from its earliest history, died at his home three miles east of Roddy, April 25, aged 80 years, of paralysis, and was buried at the Old Friendship church and burying ground in the presence of one of the largest gatherings ever congregated at that place. Mr. Clack was made a Mason in old Washington lodge in 1864 and moved his membership to Rhea Springs lodge in March, 1869. After religious services by the Rev. Dake the Masons of Rhea Springs lodge, F.&A.M., took charge and laid the body in the grave with the solemn and impressive masonic ceremonies.

Mr. Clack had held many positions of trust, as well as official positions in Rhea county and never was there heard an unkind or censorious criticism in any capacity, being well and favorably known not only in Rhea, but in Meigs and Roane counties as well. There were many of his friends at the funeral from these counties.

more at Rhea County Tennessee TNGenWeb
Joined the Confederate Army April, 1862, enlisted Co B, 43 regiment Tenn Volunteers. Served in this regiment until taken prisoner at Vicksburg July, 1863. signed W R Clack age 79 years 6 mo
The transcription of the diary was stored online as a reference for researcher. The notice below was provided on that page:
____________________________
USGENWEB NOTICE: In keeping with our policy of providing free information on the Internet, data may be used by non-commercial entities, as long as this message remains on all copied material. These electronic pages may NOT be reproduced in any format for profit or for presentation by other persons or organizations.
Persons or organizations desiring to use this material for purposes other than stated above must obtain the written consent of the file contributor.
This file was contributed for use in the USGenWeb Archives by: Edna Clack Woodchippy@AOL.Com
____________________________
The W. R. Clack Civil War Diary from Vicksburg was added to this site after attempting to contact the contributor.
Subsequently, through the efforts of Tom Liljenquist, the contributor, Edna Clack Sachs, contacted me. She has since requested inclusion of additional source information.
After it was shared on Rhea County Tennessee TNGenWeb, the diary transcription was published in a family genealogy book, "Clack And Kindred Souls, As The Crow Flies."
Type of Work: Text Registration Number / Date: TXu001037872 / 2001-07-09 Title: Clack and kindred souls : as the crow flies. Description: 326 p. Copyright Claimant: Edna Clack Sachs
Contact information: