Point Lookout, Md., Oct. 7th, 1863.
Special Order No. 123:
The female nurses will be relieved from wards 6, 7, 8, 9, 10, is and 14, and they are strictly enjoined to abstain from any intercourse with the Prisoners of War.
A. Heger, U. S. A.
__________
Circular, No. 17.
Point Lookout, Oct. 7, '63.
Miss G. Woolsey: In accordance with instructions received from the Surgeon-General's Office, dated October 7th, 1863, the discharge of the female nurses on the 5th inst. refers only to their discharge from the Hospital, not from the service at large. . . Enclosed please find certificates of pay.
By order of the Surgeon-in-Charge.
W. H. G., Assist. Surgeon.
__________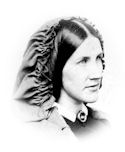 A. Heger, Surgeon-in-Charge Hammond General Hospital: Sir:
I have the honor to enclose four duplicate certificates of pay, for myself and my sister, Miss Jane S. Woolsey. Will you be kind enough to make use of them for the benefit of the hospital fund?
G. M. Woolsey.
__________
Point Lookout, Md., Oct. 7, 1863.
Madam: The transfer of the certificates of pay of yourself and sister to this Hospital is received, and in the name of those poor soldiers who shall enjoy the benefits of your gift, I tender you many thanks for it.
Very respectfully,
Your obedient servant,
A. Heger.